Meals To Go
Here at What's Cooking, we believe that you should never have to go without a home cooked meal, even when you're on the move. That's why we created Meals to Go, our unique line of fresh and fresh frozen meals completely prepared and ready for you to put in the oven. We have a large assortment of meals available in multiple serving sizes, like our homey casseroles, warm soups, and fresh deli entrees. Whether you are cooking for one or 30, leave the prep to us and enjoy a home-cooked meal tonight.
We have meals for all occasions, including:
Quiet Dinner at Home
Family Gathering
New Mom
Shut Ins
Bereavement Meals
Mom's Away
Weekend Get-a-Ways
Last Minute Meals
Our Meals To Go Menu is based upon availability. Please feel free to call 2-3 business days in advance for your specific requests. Also, please remember that we are not a restaurant thus not a short order establishment. We will do all we can to accommodate your requests, but we do cook in bulk.

*All items subject to price change and availability.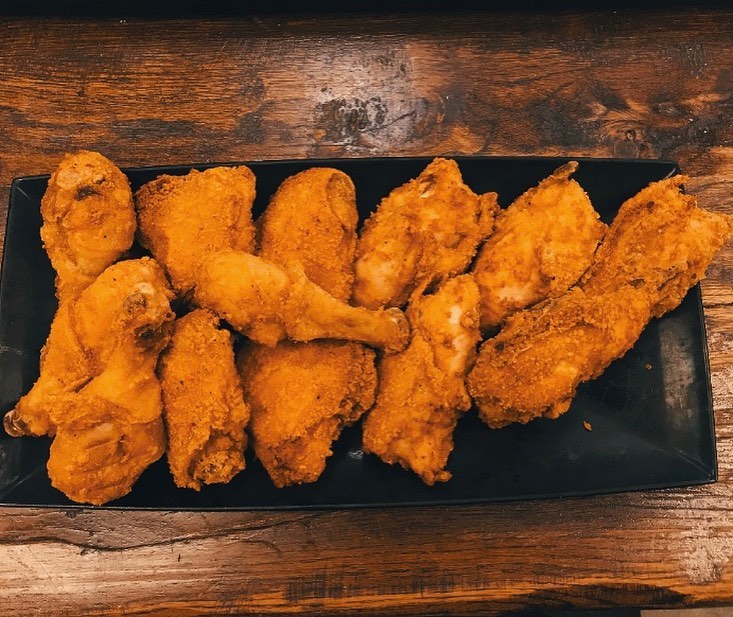 FRESH SOUPS
Not all items in stock
$6.00 & $7.00 – Pint | $12.00 & $14.00 Quart
BEEF BOURGUINON
BROCCOLI & CHEESE
CHICKEN CURRY
CHICKEN & DUMPLINGS
CHICKEN & SAUSAGE GUMBO
CHICKEN NOODLE
CHICKEN TORTILLA
CHILI WITH BEANS
CLAM CHOWDER
CREAM OF ASPARAGUS
CREAM OF MUSHROOM
CUCUMBER AVOCADO
GREEN CHILE STEW
LENTIL
MINESTRONE
NAVY BEAN & HAM
SHRIMP COCKTAIL SOUP
SPLIT PEA
TAOS CORN CHOWDER
TOMATO BASIL
TURKEY & WILD RICE
VEGETABLE
VEGETABLE BEEF
VEGETARIAN CHILI
VICHYSSOISE
FRESH AND FROZEN CASSEROLES
Not all items in stock. To help make sure your selection is available, please preorder 2-3 days in advance.
Small is $9.00 (SERVES 1-2) Medium is $18.00 (SERVES 3-4) Large is $40.00 (SERVES 8-10) 9 x 13 is $50.00 (SERVES 12)*
*9 x 13 is a special order and requires at least 2 working days in advance.
CHICKEN CASSEROLES
CHICKEN ARTICHOKE FLORENTINE
CHICKEN ASPARAGUS
CHICKEN DIVAN
CHICKEN ENCHILADAS
(Enchiladas are $4.50 each minimum 2)
CHICKEN POT PIE
CHICKEN SPAGHETTI
CHICKEN TETRAZZINI
CHICKEN & VEGETABLE LASAGNA
CHICKEN & WILD RICE
SHERRIED CHICKEN CREPES
(Crepes are $4.50 each minimum 2)
SMOKED GOUDA TORTELLINI
TOMATO VODKA PASTA
BEEF CASSEROLES
BEEF ENCHILADAS
(Enchiladas are $4.50 each, minimum 2)
BEEF LASAGNA
BEEF POT PIE
BEEF STROGANOFF
BEEF TERIYAKI
BRISKET*
$10 for small (half pound) | $20 for medium (one pound)
CABBAGE ROLLS
MEATLOAF
PEPPER STEAK
POT ROAST
ROPA VEIJA
SMOTHERED STEAK
SPAGHETTI W/MEAT SAUCE
SPANISH SPAGHETTI
SHEPHERDS PIE
FRESH SIDES & DELI ITEMS
Not all items in stock at all times. To ensure your choice is available, please preorder 2-3 days in advance.
PRICES WILL VARY
ASPARAGUS
BAKED BEANS
BROCCOLI SALAD
CAPRESE SALAD
CORNBREAD DRESSING
CUCUMBER TOMATO SALAD
DEVILED EGGS
FRUIT SALAD
GREEN BEANS
GREEN CHILE CORN GRITS
LENTIL & WALNUT SALAD
LIME JELLO
MARIA'S SLAW
MASHED POTATOES
NAPA SLAW
OKLAHOMA HASHBROWN CASSEROLE
ORZO SALAD
PASTA SALAD
POTATOES
SCALLOP
POTATO SALAD
RATATOUILLE
ROASTED NEW POTATOES
SQUASH CASSEROLE
TOMATO ASPIC
TWICE BAKED POTATO
VEGETABLES
OVEN ROASTED
DELI ENTREES
Not all items in stock, selection varies:
BEEF
Chicken Fried Steak $6.50
Corned Beef $6.50
Served with cabbage & vegetables
Flank Steak $8.50
NY Strip $10
Prime Rib $12
Roast Beef $9
Served with mashed potatoes and gravy
Smothered Steak $6.50
Stuffed Pepper $6
Swiss Steak $6.50
PORK
Chops
breaded or bbq $5
Ham $4
Hamloaf $4
Ribs $2.50 ea
Grilled chop
Served w/ rice $5
CHICKEN
Asiago stuffed breast $6
BBQ Chicken
Breast $4, Leg $2, Thigh $3
boneless skinless breast $5.00
Cordon Bleu $6
Fried Chicken
Breast $4, Thigh $3, Leg $2
Grilled boneless breast $5.00
Parmesan $7
Piccata
w/ noodles $7.00
Bacon Wrapped Skewer
skewer w/ 4 bites $6
Spinach Artichoke Breast $6
TURKEY
Turkey w/ Dressing $7.50
Turkey Meatloaf (Deli) $5